ABOUT THE SHOW
LET'S GET NEW BRUNSWICK OUTDOORS!
Put your powersports, tourism and outdoors products in front of THOUSANDS at the Edmundston Home & Outdoors Show.
Showcase your products and services to an engaged audience, generating valuable leads and expanding your customer base. Benefit from the personal connections forged in a live setting and seize the chance to build brand awareness, establish credibility, and increase sales. Building off the massive success of last year's show, the 2024 show expects to sell out early! Don't miss your chance to be part of the 2024 Edmundston Home & Outdoors Show.
EXHIBIT PRICING
EXHIBIT LIKE A PRO
Our all-inclusive exhibitor package includes:
8' drapery backwall

3' drapery sidewalls

Aisle carpeting

Booth carpeting

Daily booth vacuuming

110-volt shared electrical outlet

Container storage

Discount admission passes

Forklift services to and from your booth (up to 5,000 lbs.)

Exhibitor badges
PRICING: For information on booth space and pricing, contact Show Management.
2023 Home Show Exhibitor List
Alliance Realty Inc.
Batteries Expert
Beaulieu Plumbing & Mechanical
BMR D.E Landry
BrokerLink Inc.
Buckson Woodwork
Cape Cod Siding
Caravane Temis
CCNB Edmundston
Crystal Fireplaces
Crystal Flooring
Culligan of Fredericton
Developpement Ville D'Edmundston
Easy Up Structures/Log Kits Canada
Energie NB Power
Fenetres Unique Windows
Gauvin Draperie & Design
Grange a Tapis
Groupe EMS Group Inc
GT Welding
HSL Fence
Immeubles Riviera Ltee
Luc Morin
Meubles RD
Mp Industriel Inc.
MXP Electric
Madawaska Energy Solutions
Novair
Piscine Jack & Jill
Ploudre Machine a Coudre
RBC
RE/MAX RESIDEX ENTERPRISES
Recycle NB
Rogers
Tim's Paving
T-Rio Windows
Waska
2023 Outdoor Show Exhibitor List
A.D. Entreprise Ltée
Alloculture
Camping Panoramic Inc.
Caravane Temis
Deer Ridge Riders Retreat
Department Fish & Wild
EKO Nature Glamping
Fraser Edmundston Golf Club
Grey Rock Motosports
Jardin Botanique
Jessome's La Source du Sport
Loisirs Ville Edmundston
Martin Small Equipment
Mechanic Plus
Oh La La De Sophie
O'shack Glamping
Parc Provincial De La Republique
PRO Nature
Quad NB
Républik Nature - Mt Farlagne - Sentier Mada
Sport Expert
Violette Motors
Wise Powersports
Date, Time & Location
Friday, May 3
12 noon – 8:00 pm
Saturday, May 4
10:00 am – 6:00 pm
Sunday, May 5
10:00 am – 4:00 pm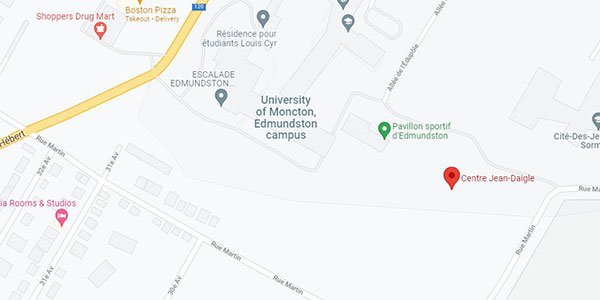 Centre Jean-Daigle and Pavillon Sportif d'Edmundston
85 rue du 15 aout
Edmundston, NB E3V 0G4